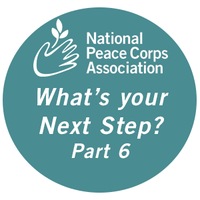 NPCA is dedicated to helping Peace Corps community members like you achieve your academic and professional goals. Through our expansive network, we have established several scholarships and professional development programs to assist community members after they complete their Peace Corps service. These programs are generously supported by individual contributions from community members. We hope you will consider contributing to NPCA so we can offer more opportunities to the next generation of Returned Volunteers.
If you want to build on your Peace Corps experience by pursuing additional education, there are many scholarship opportunities you can apply for that are only available to Peace Corps community members through the support of NPCA. These scholarships have been developed through partnerships with educational institutions around the country, and are designed to assist Returned Peace Corps Volunteers in achieving their academic goals. By expanding our community to include like-minded educational institutions, PCVs have an opportunity to build on their international work experience through higher education.
For example, the School of International Training (SIT) Graduate Institute Scholarships is a $10,000 scholarship for NPCA members with over a year of Peace Corps experience that wish to pursue graduate degrees through the School of International Training.
Past recipients of this scholarship include: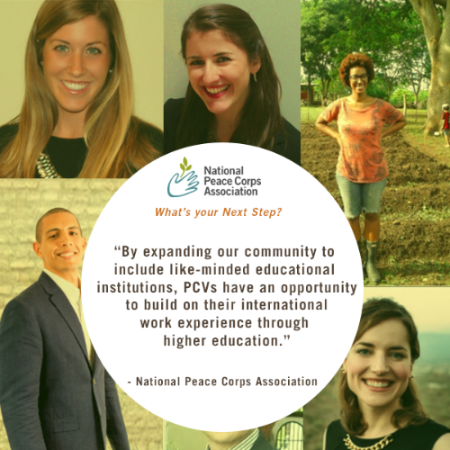 Rebecca Scarbrough (RPCV Philippines 2012-15)
Ursula Wright (RPCV Costa Rica 2012-14)
Alyssa Dinsmore (RPCV Costa Rica 2013-15)
Taylor Westfall (RPCV Costa Rica 2012-15)
Marcus Laws (El Salvador 2006-2009)
RPCVs who are also members of the NPCA can apply to the University of Southern California's prestigious IBEAR-MBA program. This program is an accelerated one-year MBA program at USC's Marshall School of Business. Scholarships may be awarded up to $45,000. A housing subsidy of $9,000 - $15,000 is also included.
Erik Naranjo (RPCV Dominican Republic 2014-16) recently wrote a blog post about the IBEAR-MBA program for NPCA saying: "The Peace Corps gave me hunger for the knowledge and guidance that an MBA program could provide. I finally understood the integral role grad school could play as I reached for new career heights. When deciding upon a university I was introduced to the IBEAR (International Business Education and Research) MBA. It was exactly what I was searching for and more. After completing the application process, I was ecstatic to find out that not only was I invited to join the IBEAR 40 class, I was also awarded the scholarship for RPCVs. This scholarship made it feasible for me to accept the invitation and provided me the opportunity to attend one of the top business schools in the nation, the USC Marshall School of Business."
Northeastern University's Full Circle Scholarship offers a 25 percent graduate school tuition discount to NPCA members who have completed a term of service with the Peace Corps. Courses are available online and in person at Northeastern University's campuses in Boston, Seattle, Silicon Valley, Charlotte, and Toronto.
We put these partnerships together and continue to promote these scholarships because we want to support you through each step of your Peace Corps journey. If you want to support our ability to put together these opportunities for RPCVs and Peace Corps community members, please consider making a tax-deductible donation to NPCA today.
What's Your Next Step? Blog Series
Whether during pre-service, in the field or post-service, National Peace Corps Association supports our community members through every stage of their Peace Corps experience. Throughout this blog series, journey with us as we explore the diverse and varying experiences of members in our community. Whether they are currently serving, or fifty years post-service, each of our 250,000 community members continues to contribute to our greater impact on the world. This holiday season, we challenge you to think about what your next step will be to live out the Third Goal and create peace and friendship through the Peace Corps community. The world is desperately in need of both, and our community must lead the charge, because making the world a better place is what we do best. We're stronger together, and together we're building a more peaceful world every day. What's your next step to live out your Peace Corps values?
---