2019: Liz Fanning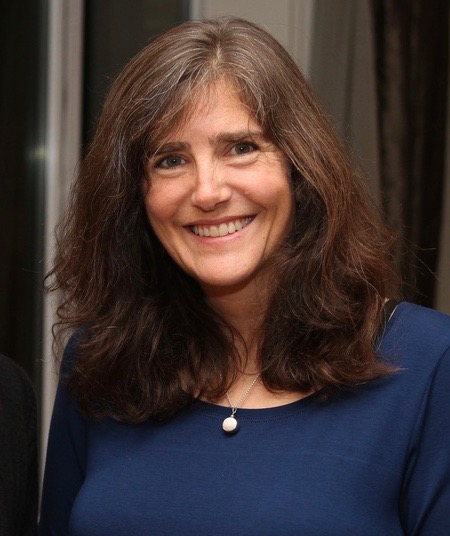 Liz Fanning (Morocco 1993–1995) is the founder of CorpsAfrica, a  nonprofit organization that gives young Africans the opportunity to serve  like Peace Corps Volunteers in their own countries. Since its founding in 2011, CorpsAfrica has built a strong follower base of over 10,000 people.  It hosts 70 Volunteers in Morocco, Senegal, Malawi, and Rwanda. By 2030, Liz aims to host Volunteers in all 54 African nations, with up to  
250 Volunteers in each country. 
2018: Arlene Golembiewski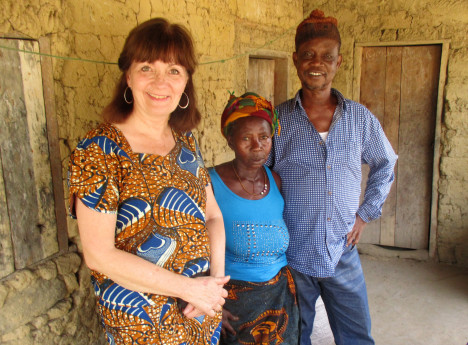 After retiring from Procter & Gamble as Associate Director of Global Health, Safety and Environment, Arlene returned to Sierra Leone in 2011 and rural Bumpeh Chiefdom where she had been a Peace Corps teacher from 1974 to 1976. From asking how she could help, a scholarship fund for girls began. In March of 2013, Arlene founded Sherbro Foundation Sierra Leone (SFSL), a non-profit NGO whose mission is to help Sierra Leone move from poverty to self-reliance through education and economic empowerment. SFSL follows the Peace Corps model of working with grassroots organizations on community-led development that empowers them to meet needs they identify with resources they have.
Arlene serves as SFSL's volunteer Executive Director and has recruited an all-volunteer staff to support her. In five years, Arlene helped develop CCET-SL's organizational capacity for seven programs, directly improving the lives of over 8,000 people. These programs are already locally recognized as models of community-led development for reapplication by others. The scholarship program has helped more than 600 girls with more than 1250 awards and just gave the first college scholarship.
Read the press release about Arlene's award. 
2017: Kelly Callahan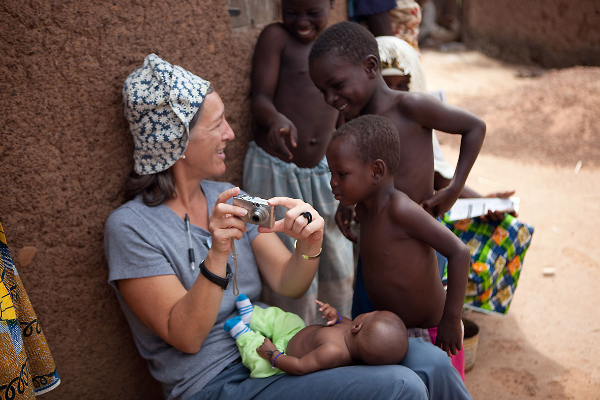 Kelly Callahan has worked tirelessly for over 20 years on the eradication of Guinea worm disease and the elimination of blinding trachoma, two diseases that affect the poorest of the poor. As a Peace Corps volunteer in Cote d'Ivoire from 1996-1998 Kelly witnessed firsthand the devastating effects of Guinea worm disease in the lives of her friends and community members. It was then that Kelly decided to dedicate her life to ensuring that "neglected tropical diseases" were no longer neglected. After her Peace Corps service and since 1998, Kelly has worked with The Carter Center in several African countries and in Atlanta, Georgia. Since that time Kelly has seen the number of cases of Guinea worm disease drop from an estimated 3.5 million to just 25 in 2016.
Read the press release about Kelly's award.
2016: Kevin Fiori and Jenny Schechter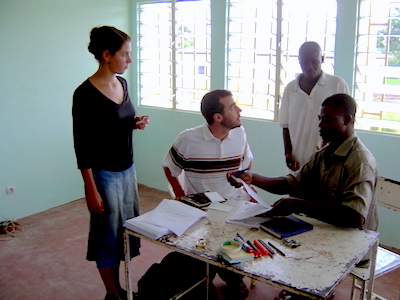 Kevin and Jenny are married with two children and have championed Peace Corps ideals through Hope Through Health in remarkable ways. Their successful efforts in bettering the lives of thousands of people in Togo display the value and potential of every Peace Corps Volunteer.
"They have transformed their Peace Corps project into a highly effective health care delivery organization," Krumm praised.
2015: Ralph Bolton, Founder, The Chijnaya Foundation, RPCV Peru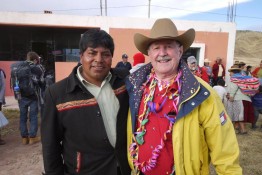 When Ralph Bolton first went to Peru in 1962, among the first Peace Corps Volunteers to serve in that South American country, he started out on a lifelong journey of helping the most disadvantaged communities on the Altiplano (highland) region of Southern Peru. Ralph's deep understanding of Andean culture, from his time in the Peace Corps, his anthropological research and his hands-on involvement with Quechua-speaking communities, influences the underlying philosophy of the Chijnaya Foundation. The Foundation uses an integrated, bottoms-up approach to the development of sustainable rural communities. Projects originate directly from the people who will benefit from them. The Foundation was formally established as a nonprofit in 2005, nine months after the Chijnaya village invited him back to honor his role in founding the community. The Chijnaya Foundation currently partners with fifteen Altiplano communities, who work as a cohesive network and whose leaders meet regularly to discuss the implementation of projects in their home communities. The innovative work of the Foundation is exemplified by its twist on microfinance programs, loaning funds to members from twelve communities for health- and income-enhancing projects. The borrowers repay the very low interest rate loans to the community fund which is then repurposed into more loans made to their neighbors.
Read blog post about Ralph Bolton here.
2014: Renae Adam and Kristin Johnson, Founders, Global Mamas, RPCVs Ghana
As Peace Corps volunteers in Ghana in the early 1990's, Renae Adam and Kristin Johnson were already dedicated to improving the lives of women in Ghana through economic empowerment. They founded a batik training center and a women's business center with a community credit union that is still functioning today. After they came home they were still intent on creating long term impacts back in Ghana. In 2003, they returned with the mission "to create prosperity for women by selling handmade, high-quality batiked products." Kristin and Renae founded Global Mamas with six Ghanaian batikers and seamstresses. Eleven years later, there are almost 600 independent business owners and artisans employed directly by the organization. Global Mamas has also joined the World Fair Trade Organization and supports other organizations as a member of the Fair Trade Federation. A decade after its founding, Global Mamas has increased its sales from $35,000 in 2004 to $1,082,819 in 2012. Through some entrepreneurial innovation, Kristin and Renae have lived the spirit of the Peace Corps and empowered women in Ghana.
Read blog post about Renae Adam and Kristin Johnson here.
2013: Philip Lilienthal, Founder, Global Camps Africa, RPCV Ethiopia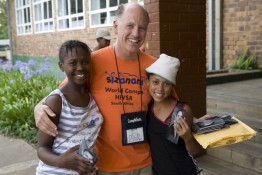 Forty-five years ago, Phil Lilienthal went to Ethiopia to serve in the Peace Corps. Drawing on his past experiences as a camper and a counselor, Phil was able to successfully complete one of his many assignments while abroad — organizing a summer camp. After returning to the United States, Phil directed Camp Winnebago in Maine in the summers and practiced law in the winters. Once Phil retired, he managed to find a partner in South Africa who shared his vision of helping children and was able to open Camp Sizanani in 2004. Thus, Global Camps Africa was born, a nonprofit whose mission is to empower children for an AIDS-free tomorrow. These children are affected by many kinds of violence and have been affected by the HIV crisis in Soweto Township. Phil's 8-day camps and the follow-up biweekly sessions provide a way for the children to see hope for their future. To date, 5,000 children have attended the camp. Through the foundation and development of Global Camps Africa, Phil has been able to live and practice his desire to help children, continuing the tradition of service he learned in the Peace Corps.
Read blog post about Philip Lilienthal here.
2012: Florence Reed, Founder, Sustainable Harvest International, RPCV Panama
Florence Reed says that her service as a Peace Corps Volunteer was the most formative experience of her life. She considers her work as a Peace Corps Volunteer to have been pivotal in leading her to later create Sustainable Harvest International (SHI). SHI has worked with nearly 1,500 families in rural farming communities in Belize, Honduras, Nicaragua and Panama since 1997. Using sustainable farming practices, organic vegetable gardens, wood-conserving stoves, reforestation and a host of other projects, SHI's local field trainers work together with families, individuals and communities to preserve our planet's tropical forests while overcoming poverty. Its five- phase approach to solving the agricultural, ecological and economic problems of Central America is innovative, hands-on and long-term. SHI's program participants have planted more than 3 million trees and converted more than 14,000 acres of degraded land to sustainable farms that provide food, income and healthy ecosystems. SHI provides its country programs with support in the form of technical assistance, funding and volunteers, while also facilitating collaboration with other organizations such as Peace Corps, Engineers Without Borders and the Pew Fellows program.  (Read blog post about Florence Reed  here. View her TEDx talk including the role Peace Corps played in her life.)
2011: Sam Goldman, Founder, d.light, RPCV Benin
Sam's start-up, d.light design, is an international consumer company whose mission is "to enable households without reliable electricity to attain the same quality of life as those with electricity." The company aims to improve the lives of 100 million individuals by 2020, beginning by replacing every kerosene lantern with revolutionary energy and lighting solutions that are affordable, durable and energy-efficient. While enrolled at Stanford Business School, Sam founded d.light in 2007. Since then, he has raised over $11 million in funding, started the India sales and marketing division, and overseen multiple product launches including the award-winning S250 and S10 solar lights. As a result of his leadership, Sam has been selected as an Ashoka Fellow and World Economic Forum Young Global Leader. In accepting the award, Sam mentioned that he first learned about Sargent Shriver when he was a Volunteer and read a story about him in NPCA's WorldView magazine.
Read blog post about Sam Goldman here.
2010: Stuart Conway, co-founder of Trees, Water, & People, RPCV Guatemala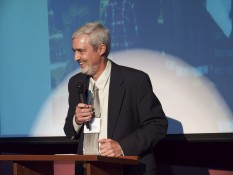 In 1998, Stuart co-founded Trees, Water & People (TWP) along with his wife, Jenny Bramhall, and Richard Fox. The mission of the Colorado-based nonprofit organization is to improve people's lives by helping communities to protect, conserve, and manage the natural resources upon which their long-term well-being depends. Over the last 12 years, TWP and its NGO partners in Central America and Haiti have planted 3.5 million trees and are currently planting 600,000+ trees per year in their projects. In collaboration with the Honduran Association for Development (AHDESA), TWP developed the Justa Stove, a fuel-efficient cookstove designed to reduce wood usage for fuel to conserve trees and reduce emissions. Building upon his success, Stuart worked with Peace Corps Program Directors in Guatemala, Honduras, El Salvador and Nicaragua to introduce the improved stoves to Peace Corps Volunteers for inclusion in their work. To date, he has expanded his beneficial stove program throughout Central America and Haiti, coordinating the building of nearly 40,000 fuel-efficient stoves, directly improving the lives of approximately 200,000 people.
2009: John Hatch, founder of FINCA, RPCV Colombia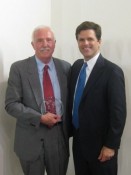 John Hatch is the founder of FINCA (Foundation for International Community Assistance), one of the world's leading microfinance institutions with programs in 21 countries and over one million low-income families assisted since its inception in 1984. Hatch is also known as the father of "village banking," a group loan methodology now replicated by over 800 microfinance programs in 60 countries. Hatch also continues to serve as co-founder and executive committee member of the Microcredit Summit, a global campaign to reach 175 million of the world's poorest mothers with self-employment loans by the year 2015. He has given microcredit workshops and lectured widely at universities at home and abroad. Following his retirement in 2007, Dr. Hatch founded Alliance for Students Against Poverty (ASAP), which has a goal of ending global poverty by getting 2 million Americans to pledge $1/day for those living on less than $1/day, thus raising $10 billion by the year 2025 to distribute to those microfinance agencies with the best track record of serving the "poorest of the poor.".
2008: Joan Velasquez, co-founder of Mano a Mano, RPCV Bolivia 
In 1994, Joan and her husband, Segundo Velasquez, founded a non-profit organization to serve the most impoverished villagers in rural Bolivia. Mano a Mano was originally premised on the simple notion that medical inventory that would otherwise be wasted could be routed to Bolivia. Thus, Minnesota volunteers began collecting and shipping what has now grown to 2,500,000 pounds of medical surplus. On the receiving end, Cochabama volunteers continue to ensure that those medical supplies reach the neediest Bolivians. She pressed forward and within two years of launching Mano a Mano, she and her husband, along with counterpart volunteers in Bolivia, were overseeing a massive clinic-building program that as of now has created a health care infrastructure of eighty-nine community clinics in previously unserved areas of Bolivia. Through this network more than 700,000 Bolivians have access to health care for the first time. This and Mano a Mano's other accomplishments (such as building roads, airstrips and agricultural water reservoirs as well as attaining an aviation program and constructing public school classrooms) has improved the lives of hundreds of thousands of Bolivians.
2006: Loren Finnell, founder and director of The Resource Foundation, RPCV Ecuador 
Finnell has spent several decades strengthening grass-roots, non-profit organizations in the developing world. His most noted individual achievement has been the founding and leadership of The Resource Foundation, an organization dedicated to cultivating productive relationships between more than one hundred private social development organizations in twenty three Latin American and Caribbean countries and selected donors. Finnell's collaborations with corporate donors have demonstrated that support of non-US development organizations can be highly successful for all parties, essentially "writing the book" on this practice.
2004: Dr. Kevin Denny, co-founder of the Malawi Children's Village, RPCV Malawi 
Dr. Denny assisted in the establishment of the Malawi Children's Village program which now serves the needs of over 3,200 children in 37 villages who have lost their parents to AIDS. Since 1991, he has lead fundraising efforts and engaged RPCVs in helping others travel to other countries to volunteer their time and services. Dr. Denny is a child psychiatrist who currently resides in Canandaigua, New York.
2003: Sue H. Patterson, founder of WINGS, RPCV Colombia 
Several years after leaving her Peace Corps service in Colombia, Sue Patterson joined the Foreign Service. Her outstanding 24-year career was recognized with numerous State Department awards including even Volunteer of the Year,  normally given to a family member of a Foreign Service Officer. She worked in such areas as refugee affairs, human rights and the environment. Upon retirement, Sue returned to live in Guatemala and established WINGS which works to strengthen Guatemalan families through reproductive health, primarily family planning and cervical cancer screening.  She remains on the board and is the Chairperson of WINGS.  Since 1998 she has served on the board of Behrhorst Partners for Development leading their activities to improve health, nutrition and education among the highland Mayan population.
2002: Molly Melching, Executive Director, Tostan, RPCV Senegal 
Molly Melching has dedicated her life to helping Senegalese villagers achieve independence and self-sufficiency through her non-formal, culture-based education programs. She is the founder and executive director of Tostan, an American non-profit organization that promotes social transformation through a non-formal education program including literacy, numeracy, human rights, problem-solving, leadership, health, democracy and management skills. Named for the Wolof word meaning "breakthrough," Tostan is aimed primarily at women in rural villages. Tostan's teaching methods employ shared cultural practice and knowledge to impart information pertaining to hygiene, health, rights, management and leadership skills. Through education, women gain the knowledge, experience and confidence to speak up for their health and human rights. Tostan is widely hailed as the impetus behind the decision of 274 Senegalese villages to abandon the long-standing cultural tradition of female genital cutting.
1999: Julia Demichelis, Conflict Resolution Consultant, RPCV Ghana 
Julia has worked for the past fifteen years with a handful of non-government organizations committed to rebuilding communities destroyed by wars in the Balkans and in Africa. After Peace Corps Julia was a volunteer with the Lane County chapter of the American Red Cross in Eugene, Oregon. She went back overseas in 1991 for the American Red Cross to help Liberian refugees in Cote d'Ivoire. In 1993, she began directing emergency food relief operations for refugees in Macedonia, and was asked by the International Red Cross and Red Crescent Societies to advise the Ministry of Defense on distaster preparedness in the earthquake-prone northern mountains of Albania. In 1995, the United Methodist Refugee Committee sent her to Bosnia and Herzegovina to direct a multi-ethnic team to re-establish community services in war-torn and ethnically split ommunities. In 1997 the U.S. Institute for Peace sent her to investigate the capabilities of NGOs, the police, and local media for future peace-making initiatives. On a private contract she was hired in 1998 to oversee grant funding and advisory services to strengthen municipal and civil services and strengthen the media in Belgrade. There, she also acted as chief of party for U.S.A.I.D. political transition and humanitarian response projects in Belgrade and assisted in the start-up of a pre-peace accord and community-based grant-making program in Kosovo.
1997: David Schweidenback, Pedals for Progress, RPCV Ecuador 
As a PCV Schweidenback noted the economic power of the bicycle when he noted that one of his community's wealthiest and successful citizens was the only carpenter with a bicycle. He was not that much better than other carpenters but because he could hang 40 pounds of tools from his bike's handlebars and pedal as far as eight miles to build a chicken coop or a roof a house he had a distinct advantage over other carpenters. This insight led David to start gathering up rejected bikes and to ship them to barrios and villages in the less-developed world. He collected 800 bikes his first year. His reach spread, costs rose, collection sites increased, shipping containers filled, and Pedals' system grew. In 1994 David gave up his construction business and worked on the bikes full-time, collective 2,700 and a $5,000 salary. His family of four made ends meet with his wife's salary as a math teacher at Pace University. By the end of 1997, Pedals had collected 20,000 used, donated bikes and shipped them to communities in Nicaragua, Eritrea, Barbados, El Salvador, the Dominican Republic, Ecuador, Fiji, the Solomon Islands, Madagascar, Honduras and Namibia, putting farmers, laborers and crafts people on bikes so it doesn't take half a day to get back and forth to field, factory and market.
1996: Kevin George, President Friends of Liberia, RPCV Liberia 
George has been a citizen-activist for the cause of Peace for the small, troubled nation of Liberia. He has testified before Congress, led annual fact-finding missions to Liberia and refugee camps in neighboring countries, produced a video on the history of the conflict, served as a delegate, the only non-Liberian invited, at a Liberian national conference in 1994, worked with the Carter Center on conflict mediation conferences, led a successful campaign for the appointment of a special envoy to Liberia and maintained contact with divergent political and military factions during the civil war. Under his leadership, Friends of Liberia has provided books, seed rice and farming tools to Liberian refugees and in 1991 a medical doctor in the group volunteered a year's service in Monrovia clinics and hospitals. George said, "Now we have a team of our members in Liberia helping Liberian communities to participate in their own reconstruction and relief."
1995: Robert Pastor, The Carter Center, Atlanta, Georgia, RPCV Malaysia 
Pastor provided significant assistance in negotiations to peacefully remove General Raoul Cedras from office and to permit the restoration of Haiti's democratically elected president, Jean-Bertrand Aristide. By doing so Pastor promoted the role individual citizens play in building democratic institutions in the volatile nations of the developing world. He indicated that "All of our work in Peace Corps has been about democratization. We did it indirectly."
1994: Congressman Tony Hall of Ohio, Leadership in Hunger, RPCV Thailand 
As a member of Congress, Tony Hall chaired the Hunger Caucus leading to significant policy and legislative initiatives toward the elimination of hunger and international development.
1993: Father James D. Michell, El Camino Training Center, RPCV Colombia 
Following his four years as a PCV Mitchell studied to become a parish priest and returned to his community in Santander where he founded a leadership training center for thousands of young men and women of the rural areas and served as a facilitator of dozens of community action centers. El Camino graduates have returned to their communities as schoolteachers, health promoters, farmers trained to share their knowledge of modern techniques and several as priests. Colombian educators, all graduates of the center, now run the school.

1992: Dr. Philip Curd, The White House Clinic, McKee, Kentucky, RPCV Guinea, West Africa 
Since returning from his Peace Corps service, Dr. Curd has brought his skills home to his native Kentucky, where he has dedicated his life to bringing high-quality, affordable medical care to an area where few other physicians choose to practice. Thirty years ago, a $200 donation and a converted little white house gave rise to a clinic in the small mountain town of McKee, KY. Money obviously isn't what drew Dr. Curd to Appalachia to practice family medicine. In the Peace Corps, Dr. Curd worked in education and health. In the White House Clinic, he emphasizes the importance of health care for the community as well as the individual. He conducts education outreach program and encourages patients to take an active role in their care with PAP smears, breast cancer detection, immunizations and diabetes control. Dr. Curd's work at the White House Clinic has been an inspiration to others. Said Dr. Hester, during his residency at the University of Kentucky, "Phil Curd practices the ideal that a lot of physicians go in with, but never achieve, a mixture of true service and the practice of medicine. The White House Clinic is a lighthouse for others to follow. It made me think I could do the same or that there area other things I can do to serve."
1991: Marjorie May, Peace Corps Partnerships, Pen Argyle, Pennsylvania, RPCV Malaysia 
Since 1970, when May read about the Peace Corps Partnership program in Readers' Digest, she has led her town of Pen Argyle, Pa. In raising over $100,000 to help schools in 19 countries. In doing this May has gotten the entire community involved. Sixth graders sold Cupid Grams that they sang to each other. The high school World Affairs Club organized flea markets. "Their mother's would bring pick-up trucks with furniture in them," May says. "The money rolled in." May herself sewed homemade clothes, mowed neighbors' lawns, and held garage sales. May reached her goal of $100,000 in 1990, the same year she turned 82 years old. May has become "quietly famous" in Pennsylvania's Lehigh Valley, says the RPCV group that nominated her. They say May is promoting world peace "one brick at a time." May has also been involved in her community, in Meals on Wheels and in her Methodist church. She helped found FISH-Fellowship in Service to Humanity, which offers rides to senior citizens who need transportation to doctors, dentists, or even to the grocery store.
1990: Kenneth Dunn, founder, The Resource Center, Chicago, Illinois, RPCV Brazil 
In 1975, Dunn began the nonprofit Resource Center, which in 1990 was a $2million operation that offers curbside recycling pick-up in two wards of Chicago and in suburban Oak Park. Dunn practices what he preaches by living frugally. In 1989 he paid himself $24,000 a year and supplemented his income by teaching philosophy at the University of Chicago. Eighty percent of the Resource Center's budget comes from the sale of collected materials; the rest comes from grants from organizations such as the Field Foundation. Dunn says community participation in curbside recycling is 90 percent in Oak Park, 85 percent in the Beverly neighborhood of Chicago and 35 percent in the city's Hyde Park area.
1989: Paul Thompson, co-founder Skiers Ending Hunger, RPCV Malaysia 
In 1978 Thompson and a friend raised $1,000 by taking pledges from friends and neighbors before skiing the 55-kilometer North American Birkebeiner. Almost 12 years later, Skiers Ending Hunger is an established foundation with over $350,000 raised from 1978-1988. Thompson has become a tireless lobbyist for anti-hunger initiatives. In 1988 Thompson founded RESULTS, a national grass roots organization campaigning to promote the hunger agenda in Congress, the 50 states and in the media. Today RESULTS is an established group that has made significant in-roads in creating awareness on hunger issues. Thompson indicates that "through my involvement with RESULTS, I have learned that democracy is a gift that is to be respected. It's a powerful vehicle if you can learn how to use it."
1988: Robert Burkhardt, founder, The San Francisco Conservation Corps, RPCV Iran 
A circus juggler with a Ph.D. A prep school and Ivy League graduate who leads a band of street toughs, immigrants and forgotten youths. A plumber inspired by the idealism of poets and philosophers. Robert Burkhardt runs with a firm grip, the San Francisco Conservation Corps, (SFCC) a youth service and youth development program organization founded by Burkhardt in 1984 as the first urban conservation corps in the nation. The SFCC is composed of men and women ages 18-23 from what Burkhardt calls "the underclass's" of American society-non-English speaking, recent Southeast Asia immigrants, native-born blacks and Hispanics, the dropouts and the never-ins. To participate in the SFCC the young people must register to vote. For most it is their first conscious act of citizenship. Burkhardt also urges them to participate in several blood drives each year. Giving "the gift of life" enhances their sense of self-worth and expands their awareness of belonging to a larger society. Evenings and Fridays are reserved for required classes, especially English and for seminars on drugs, birth control, and money management.
1987: William and Brenda Remmes of Jackson, North Carolina, RPCVs Ghana and Cameroon 
Awarded for the significance of their local community grass-roots efforts in improving the quality of life for their community. Brenda developed the only integrated pre-school program in the county. After that was launched, she took training and offered the first Lamaze classes ever available in the county. When Bill took charge of the small, rural non-profit health clinic in Jackson, NC, there were five staff members, one black physician, and a budget of $100,000 and 5,000 patient visits annually. In two years he had the practice expanded to three doctors, two physicians assistants and fifteen staff to become the first integrated practice in North Carolina. His efforts have led to the extension of health care services into five clinics, a budget of 1.8 million and 50,000 patient visits annually. Bill served as a Cub Scout master, president of the Woodland Olney School PTA and co-founder and president of the Hertford-North Hampton County Parents for the Advancement of Gifted Education.
1986: 5 recipients during the inaugural year of the award
1. Timothy Carroll, co-founder of Eye Care, Inc., Port-au-Prince, Haiti 
An RPCV from Nigeria, Carroll founded Eye Care Inc. in 1977. For many years the poor citizens of Haiti have suffered by the thousands from serious eye diseases. Eye Care has a simple mission – to save their eyes. Under Carroll's leadership Eye Care has: built, staffed and equipped four rural eye hospitals and three urban eye centers, trained hundreds of Haitians as outreach technicians and hired successful graduates to staff local eye clinics, build and equipped the first laser room for glaucoma control in the Caribbean, started a Handicapped Women's Employment Program and helped market their handicrafts, and started a Child Survival Program. The program became self sufficient within nine years with 117 Haitian staff and only two Americans involved. Tim raised on an annual basis over a half million dollars a year entirely from private sources. 
2. Katrina Clark, Director, Fair Haven Community Health Clinic, New Haven, Connecticut 
An RPCV from Colombia, Clark has been the moving force in directing this clinic in one of the nations poorest urban centers. In the 13 years of her leadership, the clinic has grown from serving 500 persons annually to serving over 10,000. The budget has grown from 30,000 to over a million dollars. Katrina has created two satellite health clinics, one targeted for the elderly and another for teenagers from the local high school. Her good reputation and accomplishments have helped to illuminate the field of community health services far beyond the Fair Haven Clinic. 
3. Paul Thompson, Intertect, Madison, Wisconsin
 An RPCV from Chile, Thompson devotes his talents to the field of disaster management, working mainly to help Third World communities rebuild after a disaster. Paul has worked on community reconstruction after earthquakes in Guatemala, on flood damage mitigation in Bolivia, on reconstruction following hurricanes in the Dominican Republic, on developing refugee camps in Somalia, on building safety in Kenya and on cyclone housing reconstruction in Madagascar. He takes special care in building structures that will be more resistant to future disasters. 
4. Stephen and Douglas Hellinger, Co-directors The Development GAP, RPCVs Brazil (Douglas) and Nicaragua and Venezuela (Stephen) 
Identical twins, Steve and Doug have worked tirelessly in shaping constructive alternative policies in the field of foreign development assistance. Their accomplishments in international development are impressive and include: 1) the creation of alternative credit programs in Mexico, Nicaragua, Colombia, Bolivia and Chile; 2) designing small-scale enterprise programs in Ecuador, Bolivia and Brazil; 3) producing employment and income-generating programs in Kenya, Egypt and Zimbabwe; and 4) founding of the African Development Foundation. Their efforts have been focused on the world's poorest citizens and they live a lifestyle consistent with their commitment to the poor. They pay themselves extremely modest salaries because of their belief that those who purport to serve the poor should themselves live frugally. Through their example they have influenced the entire field of international development for the better. 
5. Paul Tsongas, U.S. Senator (deceased), RPCV Ethiopia 
Despite all of his fame and public success Paul always remained loyal to the Peace Corps and the Peace Corps values. He once told a reporter: "You can always be a Senator, I suppose, by title, but in terms of what made you what you are emotionally and psychologically, clearly the Peace Corps was that experience." Paul championed throughout his career human rights abroad and civil rights here at home. He was exemplary in his leadership in supporting arms control between the superpowers, adequate foreign assistance to developing countries and strengthened international education programs in America's schools and colleges.