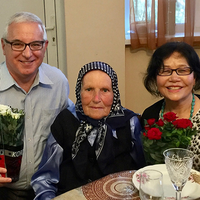 In the 1970s, David Jarmul served as a Volunteer in Nepal. More than three decades later, he and his wife, Champa, returned to serve in Moldova. Lessons and advice for experienced would-be Volunteers — and how they can make an impact.
By David Jarmul
Photos courtesy David Jarmul
What's it like to serve as a Peace Corps Volunteer in your twenties and then again decades later? David Jarmul takes a deep dive into that topic his recent book, Not Exactly Retired: A Life-Changing Journey on the Road and in the Peace Corps. He "teases out a striking contrast between his service in Nepal 35 years ago and in Moldova in the age of Trump," says Marco Werman, host of The World on public radio.
Here's a taste of Jarmul's book — shaped by a particular place and time, before the global evacuation of Volunteers in March 2020. But as Peace Corps continues recruiting Volunteers, with hopes of them returning to the field in the second half of 2021, there's plenty to chew on here.
David Jarmul served in Moldova from 2016 to 2018 with his wife, Champa, whom he met during his initial Peace Corps stint in Nepal, where he served from 1977 to 1979. David and Champa live in Durham, North Carolina, where David worked previously as the head of news and communications for Duke University.
Not Exactly Retired is published by the Peace Corps Writers imprint. Learn more and follow Jarmul's blog at notexactlyretiredbook.com.
---
Moldova Bound
Before Champa and I joined the Peace Corps at the age of 63, we knew most of the other Volunteers would be younger than our two sons. We were surprised to discover that one in four of those in our M31 group were fifty or older. Worldwide, Americans over the age of 50 comprised about 7 percent of Peace Corps Volunteers then. With better medical facilities and programs in fields such as business development, Moldova attracted people with lots of real-world experience, particularly with our group.
Whatever their reasons for choosing Moldova, our fellow older Volunteers were impressive. They'd worked as professors, attorneys, IT managers, nonprofit leaders, teachers, city administrators, and management consultants. Coming from Harlem to California, they were single, widowed, divorced, or married. Like the other Volunteers, they were also diverse ethnically, reflecting the country we represented.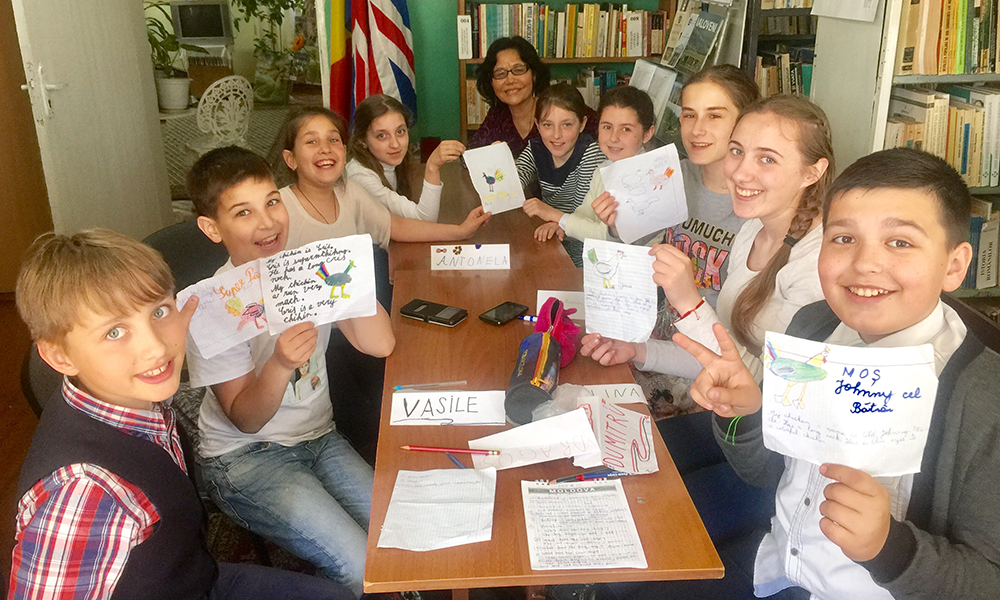 Arts in Class: Peace Corps Volunteer Champa Jarmul and her students in Moldova
We differed from our younger counterparts in some ways. Champa and I weren't the only ones who found it challenging to learn Romanian. We ran slower at group soccer games if we played at all. When our younger friends went to get tattoos, they knew better than to invite the two of us, although some of the older volunteers joined in. Some of our younger peers also partied harder than us and made surprising cultural references. When I was in the Peace Corps office one day, a Carole King song started playing, and the young woman next to me said, "Hey, it's that song from the Gilmore Girls!" On the other hand, they were usually polite when we made our own references to people and events from before they were born, so it tended to even out.
There were advantages to being an older Volunteer in Moldova, just as there were in other Peace Corps countries. People in our host communities generally showed respect towards people our age. Having children and grandchildren provided us with an instant bond with older members of those communities, including the folks running the schools and other institutions. Our experience enhanced our credibility in our workplaces. My future colleagues wasted little time in checking me out online, so they knew I'd held positions of responsibility back home. This led them to treat me more like a peer or mentor even before I'd proven myself. As older Volunteers, we could also share our longstanding hobbies, which included art and gardening for Champa.
The medical clearance process was especially tedious for older applicants, with our own taking several months even though we were in good health. Given all of the medical problems that arose with some of our older friends, I understood why the Peace Corps reviewed its applicants so carefully. It did accept some who were considerably older than us. A woman who joined the group two years behind us, just before we left, was well into her 70s and starting on her third Peace Corps tour.
Many older Americans have family obligations, medical problems, and other constraints that make the Peace Corps unrealistic. Nonetheless, it is a proven program through which many Americans of all ages have served their country and the world. It isn't as strange or exotic as some people back home suggest, and it can't just be dismissed with, "Oh, I could never do that at my age."
If you think Americans sign up to become Peace Corps Volunteers because they're altruistic and want to help people around the world, you're right, but not completely right.
If you think Americans sign up to become Peace Corps Volunteers because they're altruistic and want to help people around the world, you're right, but not completely right. A national survey of more than 11,000 returned Peace Corps Volunteers found their top three reasons for joining were "wanting to live in another culture," "wanting a better understanding of the world," and "wanting to help people build a better life."
Simultaneously, the survey reported "a significant generational shift" in the importance Volunteers placed on acquiring job skills and experience during their service. Volunteers who served more recently placed "a greater emphasis on career development as a motivation for joining the Peace Corps," it said. Just 30 percent of Volunteers who served in the 1960s identified "wanting to develop career and leadership skills" as an important motivation." Among Volunteers who served in the 2000s, 68 percent cited this motivation.
A Volunteer who returned from Guatemala wrote: "I'm sure that my Peace Corps service helped me gain acceptance to a selective master's degree program (because my grades as an undergraduate were disappointing, at best). Over the years, many people have told me that having the words 'Peace Corps' on my resume would only help me." Indeed, the Peace Corps touts the career benefits of service. Its recruitment materials emphasize the importance of selfless service and cultural outreach, but they also highlight medical benefits, student loan deferrals, tuition reductions, and career networking opportunities.
BACK WHEN I SERVED as a Volunteer in Nepal, we barely discussed resumes, grad school applications, and job prospects. America was the world's dominant economic power; jobs were plentiful. Years later, when I first started talking with Duke students considering the Peace Corps, I was taken aback by how many of their questions were about career paths. Would serving in the Peace Corps help them get into law school, a public health program, or the Foreign Service? I always responded with encouragement and eventually came to see how their questions reflected new economic realities, not a diminishment in sincerity.
I developed an even greater admiration for today's generation of Volunteers as I served beside them. They faced a more challenging economy but still chose to devote more than two years of their lives to serving others. No doubt, doing so enhanced their resumes and career prospects, but that was also true for young people who chose to serve in Teach for America or, for that matter, in the Marines. Life was complicated, just as it was for Champa and me, who joined the Peace Corps in Moldova mainly to serve others but also to pursue adventure and jump start our transition away from our workaday lives.
The most common question my American friends asked me after I moved to Moldova was whether I found being a Peace Corps Volunteer different from when I served in Nepal four decades earlier. My short answer was "Yes, of course," but the experience still felt familiar. As before, I'd left my family and country to serve people in another country, learning their language and sharing their daily lives. After I'd been in Moldova for a while, though, several differences did stand out to me.
For starters, I was much more connected to the outside world than I was the first time. I had a smartphone, a laptop, and a Kindle, all linked to Wi-Fi. I regularly talked to my family. I could follow the U.S. election campaign and other news. I interacted online with my Moldovan partners and Peace Corps colleagues. In contrast, when I served in Nepal, I was cut off.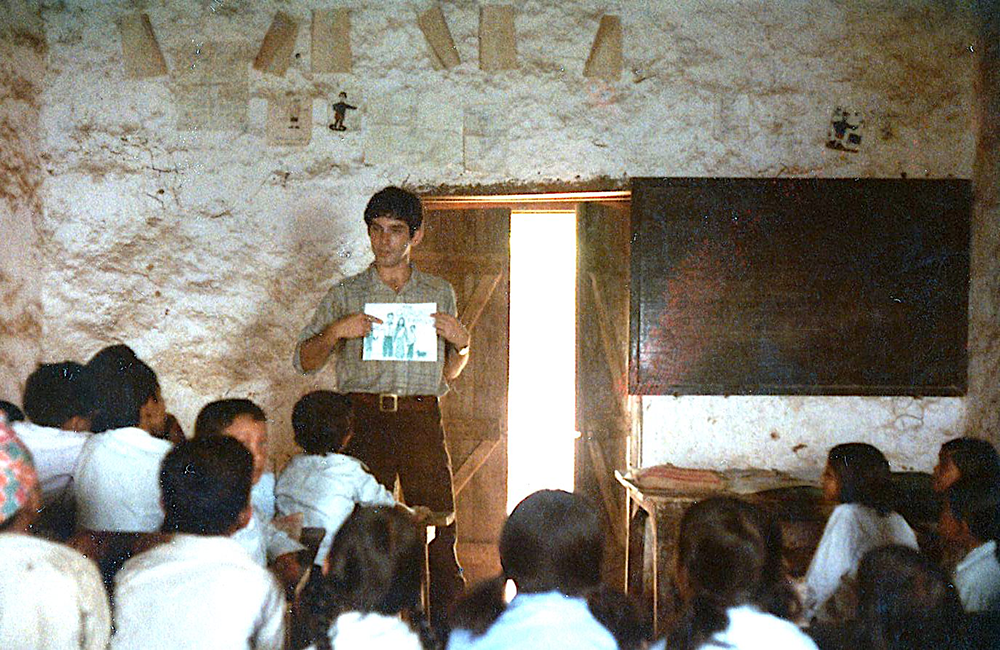 Pre-PowerPoint: David Jarmul on his first volunteer service with Peace Corps in Nepal, teaching his students using print photos in the classroom
Another change was that safety and security had become a much bigger deal for Volunteers worldwide. Neither terrorism nor street crime were serious problems in Moldova, yet our training was filled with security briefings. We were given detailed emergency action plans. I couldn't leave my post overnight without notifying the staff. I couldn't even enter the Peace Corps office without passing through a locked gate, a guard, and a metal detector — again, in a country with a low terror threat. In Nepal, I used to ride my bicycle past a front gate nominally staffed by a guard, and then stroll inside.
This new emphasis on security reflected a broader expansion in the Peace Corps infrastructure. There was so much more bureaucracy and physical stuff. My desk was piled with Romanian language workbooks, brochures on Moldovan culture, a "volunteerism action guide," and more. I had dozens of resources on a computer thumb drive the Peace Corps gave me. There were detailed protocols for everything from paying a language tutor to taking a trip. In Nepal, our training was also excellent, but we had fewer resources and a lot less red tape.
When I joined the Peace Corps in Nepal, I was two years out of college, single, and eager to save the world. Now I was a father and grandfather and serving with my wife, whom I met in Nepal.
I was also serving in a different country this second time around. Moldova is in Eastern Europe, with an agricultural economy best known for its wine. Its population is almost entirely white and Orthodox Christian. Nepal is in the Himalayas and mainly Hindu, but mixed with Buddhists, Christians, and Muslims. Both countries have delicious food and fascinating customs, but they are as different as can be, except for both being landlocked.
Inevitably, the Peace Corps experience was different, too. What's more, the world had changed over four decades. When I served in Nepal, the United States was still in a Cold War with the Soviet Union, which included Moldova. China was poor. Personal computers were new. Gay people could not get married. The idea of an African American president was almost unimaginable. After four decades, the Peace Corps had evolved to reflect this changed reality, such as with programs to combat HIV/AIDS or to "let girls learn."
Most importantly, I had changed, too. When I joined the Peace Corps in Nepal, I was two years out of college, single, and eager to save the world. Now I was a father and grandfather and serving with my wife, whom I met in Nepal. I was much older and hopefully a bit wiser. In any case, I was in a different place in my life and not just geographically.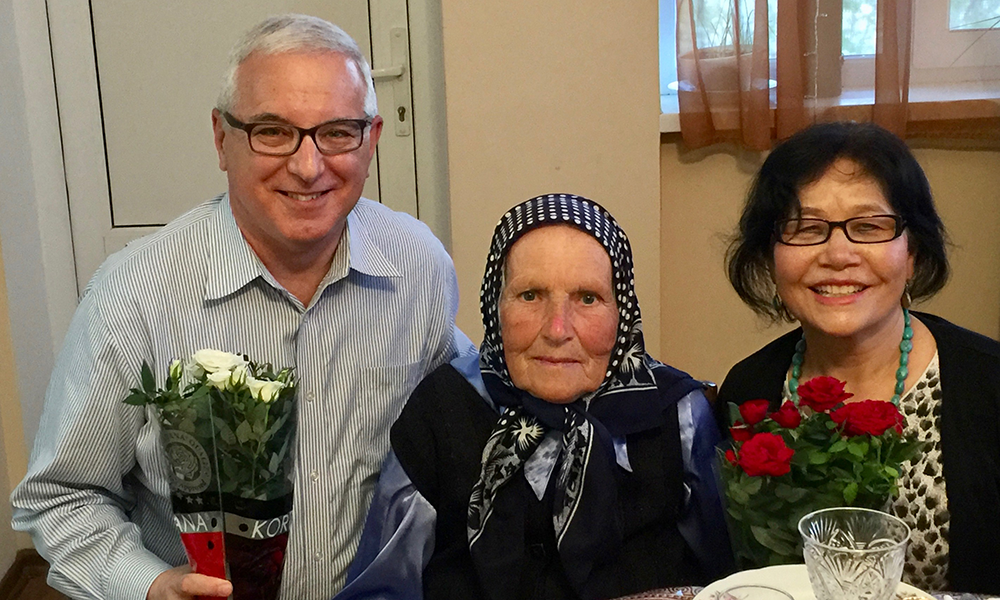 Festivities in Moldova: David celebrating his 65th birthday with his host family's beloved grandmother, Bunica
In other words, I could watch Jimmy Kimmel or a YouTube video instead of fiddling with a shortwave radio to find a signal from the BBC, but the Peace Corps still had the same beating heart. Once again, I was working alongside a wonderful group of Americans to serve others and represent our country. I felt privileged to be among them. Who knows? Perhaps there was even a new form I was supposed to fill out to confirm this.
The Peace Corps has three goals, established by President Kennedy. The first is to build the local capacity of people in interested countries and help meet their needs for trained men and women. The second is to promote a better understanding of Americans among people in other countries. The third is to increase America's awareness and knowledge of other cultures and global issues.
Our group of Volunteers met together many times but never had a session devoted to the Second Goal and Third Goal of Peace Corps. Not even once.
When it comes to changing the attitudes Americans have about people in developing countries, Peace Corps Volunteers are well-situated to provide facts, stories, and perspectives. Indeed, their mandate to promote cultural understanding in both directions became even more important after Trump's election.
Almost all of our training and programmatic support, however, was focused on the first goal. My "community and organizational development" (COD) group spent countless hours learning about community needs assessment, community mapping, and community surveys. Champa's English education group studied teaching techniques and pedagogy. Our overall group met together many times but never had a session devoted to the other two goals. Not even once.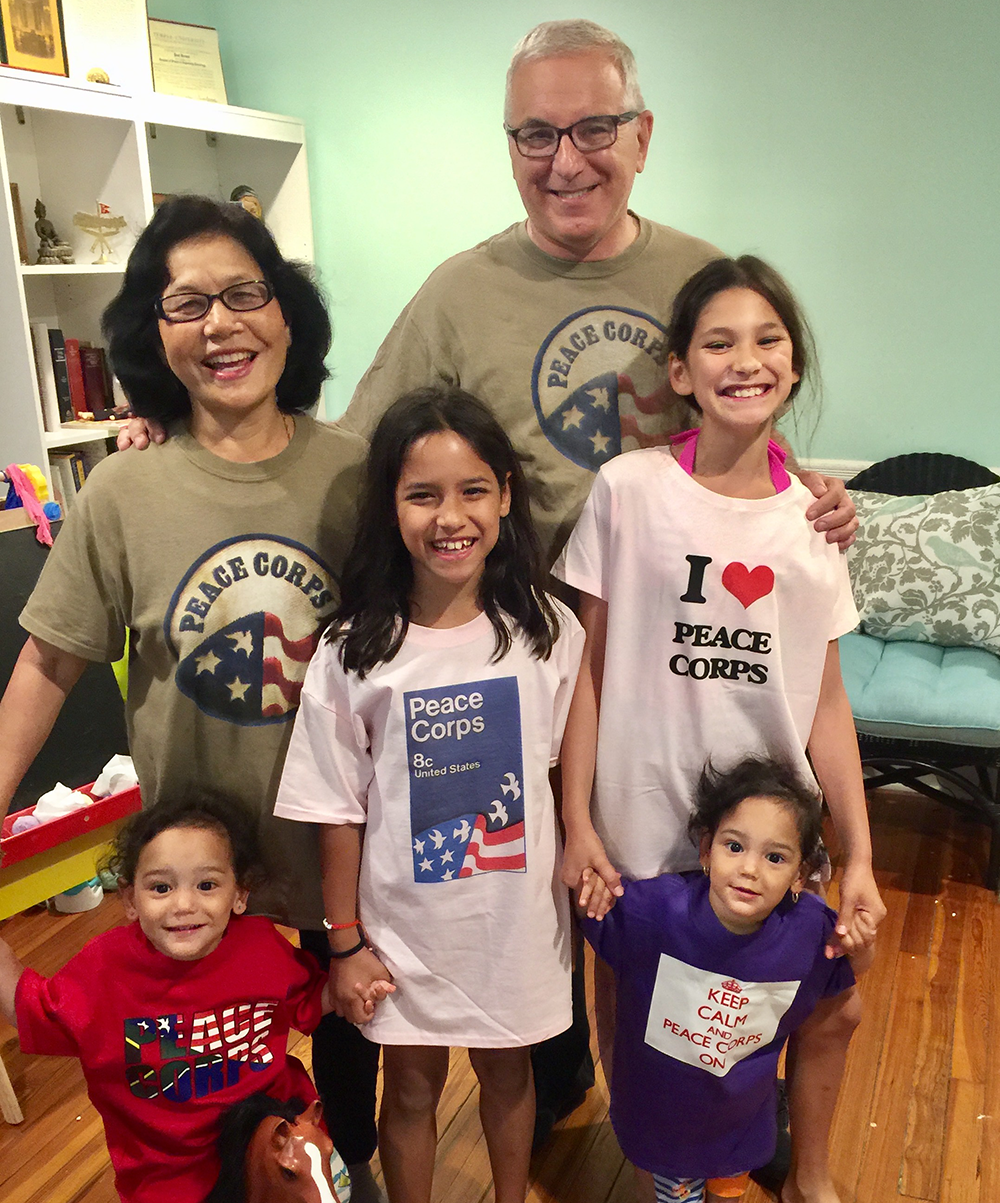 Peace Corps Family: All smiles as David and Champa Jarmul pose for a photo with their granddaughters in Peace Corps attire.
When I was invited with other COD Volunteers to participate in a detailed review of our program, these goals never came up until I asked about them at the end. Peace Corps Moldova did add a session on communications for incoming Volunteers after I suggested it, and the training paid off with increased Volunteer blogging and other activity to promote cultural understanding. But it was one session and was never followed up.
A management rule is that the amount of time people and organizations spend on a topic reflects its importance to them. The tiny amount of time Peace Corps Moldova devoted to cross-cultural communications spoke for itself, although it did back Liuba's innovations and encouraged Volunteers to get involved in activities such as Peace Corps Week.
My fellow Volunteers did amazing things at their job sites and in their communities, just like their counterparts around the world. Yet, they could have accomplished even more if the Peace Corps had made communications a real priority in its recruiting, training, program development, and assessment.
Worldwide, the Peace Corps has taken some steps to give its second and third goals more prominence, such as with international contests that encourage volunteers to produce videos or blogs. It has beefed up its online and social media activities and provided training for local staff around the world. It created a "Third Goal" office that maintains a media library and assists outreach activities. Some returned Volunteers also share their experiences and perspectives in various ways. All of this is good, but it was at the margins of what I saw discussed and supported while serving with Peace Corps Moldova.
To be sure, many of my fellow Volunteers did amazing things at their job sites and in their communities, just like their counterparts around the world. Yet, they could have accomplished even more if the Peace Corps had made communications a real priority in its recruiting, training, program development, and assessment. I was frustrated during my service to know the Peace Corps could have been more impactful in teaching our families and friends back home about distant places they may have regarded as mysterious or dangerous. At a time when President Kennedy's latest successor was referring to developing countries as "shitholes," their voices and experiences needed to be heard more widely.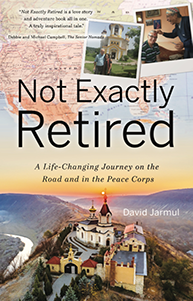 Not Exactly Retired: More on David Jarmul's life-changing journey and a link to ordering the book are here.
---